IIOC Ramadan Banquet: March 24
Mar 24, 2023 5:30PM—8:30PM
Location
Meridian Qube Fitness & Event Center 1535 Deerpark Dr. Fullerton, CA 92831
Categories Family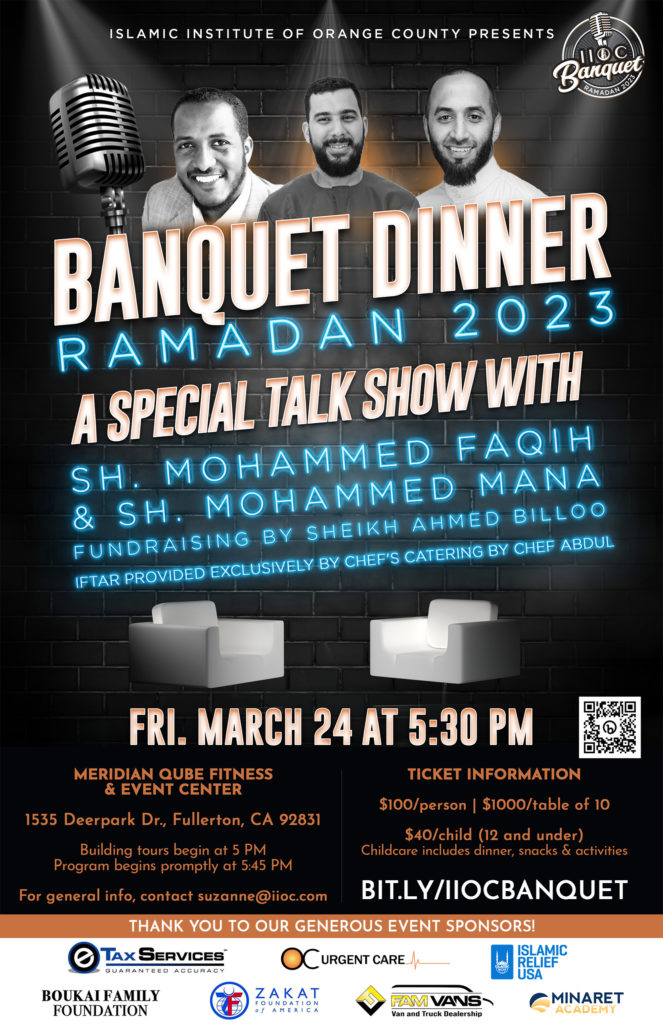 The Islamic Institute of Orange County (IIOC) would like to cordially invite you and your loved ones to the IIOC Ramadan Banquet iftar on Friday, March 24! Join us for an engaging talk show with Sh. Mohammed Faqih & Sh. Mohammed Mana; fundraising and talk by Sh. Ahmed Billoo! Iftar provided by Chef's Catering. 
Doors open at 5 PM to register and tour the Meridian Qube Fitness & Event Center 1535 Deerpark Dr., Fullerton, CA. 92831
Program begins at 5:45 PM and concludes with iftar served at 7:30 PM (Providing time for attendees to attend local taraweeh prayers at IIOC and vicinity).
Childcare will be provided for children 12 and under.
For sponsorship info or questions, please contact Suzanne: suzanne@iioc.com 
---